Spring is turning to summer, I think?: Here in Suburban Maryland, we've had wildly fluctuating temperatures from the mid 40°'s to low 90°'s and back again. These highs and lows do affect our lawns and gardens and make it harder for plants to acclimate. However, now that Mother's Day has passed, you can safely plant your annual flowers and vegetables outside. May and June months are perfect for gardening!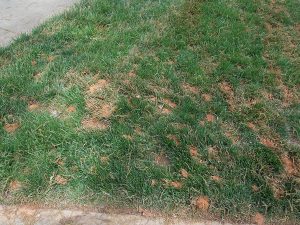 Along with the extremes in temperature, many areas experienced heavy rainfall and flooding in the last couple of weeks. Bethesda, Chevy Chase and Silver Spring had upwards of 7" of rain, while some areas like Laytonsville, Gaithersburg and Germantown had more than 10" of rainfall in the same period. This flooding is hard on our landscapes (erosion), basements (flooding) and the Chesapeake Bay (pollution from runoff and overflowing sewage systems). To help protect your home from flooding, keep your gutters and downspouts clear; be sure your downspouts drain at least 10' away from the foundation of your house. Also, make sure your sump pump is working and that you have proper grading around your house and yard.
The Weedy Grasses: Crabgrass and Japanese stiltgrass have now germinated and will continue to do so over the course of the summer. If you didn't get your pre-emergent applied, post-emergent will help to stop the invasive annual weeds from going to seed and proliferating into next year and beyond.
"Ants": We often get calls this time of year, from Potomac to Howard County about "ants" digging mounds and messing up lawns. Typically we find these are not ants, but native bees, which are often called "miner" bees (Adrena species) or "mason" bees (Osmia species) that are digging. Many pollinators are struggling these days (most folks are familiar with the problems of honey bees), including these species of native bees that are important pollinators.
We urge you to be tolerant of these native beneficial insects, as they need our help and help us by pollinating the flowers of many plants including fruit trees. These bees are solitary and stings are extremely rare. The damage they might cause to your lawn is temporary, and usually lasts just a few weeks in the late spring.
Happy Gardening!