Here are some useful fall lawn care tips for your garden!
Your Lawn, Plants, and Trees Need Water – Our region is dry; from Bethesda/Chevy Chase to Rockville, Potomac to Columbia and Ellicott City, below normal rainfall has created drought conditions that will have negative effects well beyond 2013.
We may receive some welcome help from nature, but do not rely on solely on rainfall to water your plants. Try to water your lawn and trees 2 to 3 times a week for 30 to 45 minutes each time.
Insect Activity – We continue to find beetle grub activity in Germantown, Derwood and North Bethesda. These beetle larvae eat the roots off of your grass plants and the damage can look a lot like drought stress. If your lawn peels up like a carpet, there is a good chance that beetle grubs are the cause. If there is not enough moisture for your grass to grow new roots, those areas may die off.
Fertilization and Re-seeding – There is still a good window of time to re-seed your lawn and the fall is the most important time of year to fertilize your lawn. Remember to get a soil test done and follow all of the University of Maryland recommendations for applying fertilizer to your lawn.
Fall Colors – With the extended dry weather this fall, expect bright colors as trees take on their fall colors.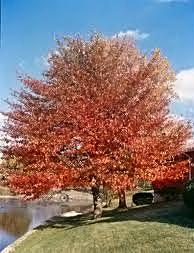 The leaves and their beautiful display may not hang on for long due to the drought conditions, so be sure to take them in while you can. Expect a good vintage for wines harvested from local grapes in 2013 and extra sweet local apples and pears. Dry weather during harvest usually means a high percentage of concentrated sugars in fruit harvested under those conditions.